Erlitou Relic Museum opens in Luoyang
|
Xinhua
|
2019-10-23 16:21:42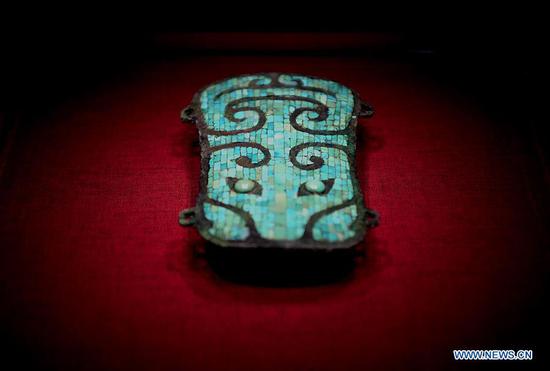 Photo taken on Oct 19, 2019 shows a turquoise inlaid plaque exhibited at the Erlitou Relic Museum in Luoyang, Central China's Henan province, Oct 19, 2019. [Photo/Xinhua]
The Erlitou Relic Museum, which exhibits the history of ancient China's first recorded dynasty of Xia (2070-1600 BC), opened Saturday in Central China's Henan province, local authorities said.
Located in the city of Luoyang, the museum exhibits over 2,000 items, including bronze wares, pottery wares and jade wares.
Covering an area of 32,000 square meters, the museum exhibits the history of the Xia Dynasty, the first dynasty recorded in ancient China. Construction of the museum cost 630 million yuan (about $89 million).
The Erlitou Relics date back to 3,500 to 3,800 years ago in ancient China's late Xia or early Shang (1600-1046 BC) dynasties.
Discovered in 1959 in Luoyang by historian Xu Xusheng, Erlitou was identified by Chinese archaeologists as the relics of the capital city of the middle and late Xia Dynasty.
The museum will help people around the world learn about ancient Chinese history and culture, said Liu Yuzhu, director of China's National Cultural Heritage Administration, at the opening ceremony.
In addition, the museum will become a demonstration site for the protection, preservation and exhibition of China's major cultural heritage sites and a research center for the origin of Chinese civilization.