Welcome to Shangyang Royal Palace!
|
ChinaNews
|
2018-12-26 19:57:27
The reconstruction of the Shangyang Royal Palace is another major project of Luoyang in recent years to bring alive and kicking to its culture and tourism industry. Though the revamped place can never do justice to its ancient scale and glory, it is still a must-see place for tourists to experience during the Luoyang Peony Festival.
Located in the southwest of Luoyang, the Shangyang Royal Palace is comprised of six complexes, namely, the Main Palace, the Guanfeng Palace, the Huacheng courtyard, the Linzhi courtyard, the Fenfang Palace and the West Shangyang Palace. Ancient craftsmen diverted theLuo River so that it encircles the palace.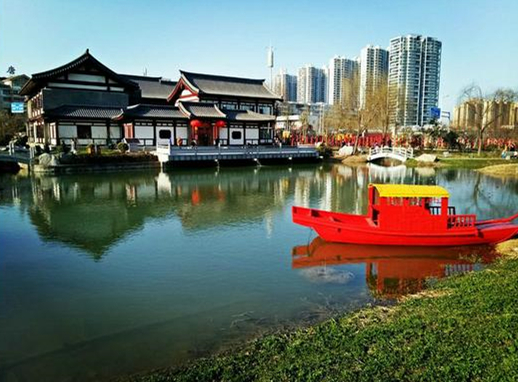 It has inspired many famous poets to acclaim its magnificence through thousands of years. One of the poem written by Wangjian of Tang dynasty describes the Shangyang Royal Palace: "Autumn will never stop by Shangyang Palace, for the evergreen flora moved up from the South and the Luo river caress the place by flowing around ceaselessly"
Heartbreaking stories hae also emerged from Shangyang Royal Palace. It has not only witnessed the celebrated Empress Wu Zetian's death but also buried another legendary imperial concubine called Meifei in Tang dynasty. In Emperor Xuanzong's period, Meifei and the then Emperor Xuanzong were very keen on each other and they were together for over 10 years. She was so giftedly versatile and is skillful in singing, dancing and writing poems. When she and the Emperor Xuanzong had their routine hangouts, she always beat Emperor Xuanzong in chess and invented poems when they toured the garden. She was so astonishingly talented that her original invention"Jing Hong Dance"which imitated the flying poses of wild goosewas included in the Legend of Concubine Zhenhuan, a hit TV series in 2011.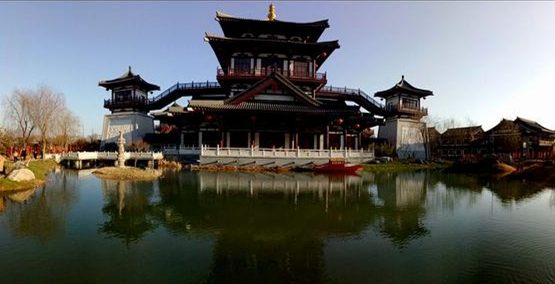 MeiFei was also admired by the subjects for her kindness and consideration. It was said that once the royal family was holding a family reunion, lost in his mind,the prince Xue tried to play footsy with her out of drunkenness. Considering the brotherhood between Emperor XuanZong and prince Xue, Meifei put up with the sexual harassment of her own accord and did not inform on him.It was not until the second day when prince Xue asked Emperor Xuanzong to pardon his rude behavior did the Emperor Xuanzong realized his beloved consort had been insulted last night. However, after years of indulgence by Xuanzong, this wise concubine was consigned to Shangyang Royal Palace after later being replaced by Yang Guifei,Xuanzong's new lover in hislater year. The disappointed
Meifei killed herself in Shangyang Royal Palace in An Lu Shan Rebellion and her death has imbued Shangyang Royal Palace with a sense of sadness and desolation.
Luoyang municipality welcome guests from around the world to drop by Shangyang Royal Palace during the Peony Festival season.