Guanlin International Pilgrim Ceremony
|
ChinaNews
|
2018-12-27 14:09:16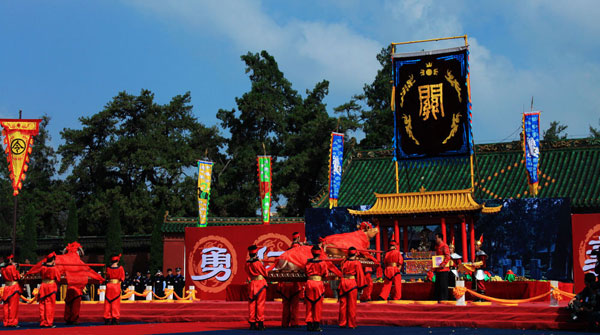 Luoyang Guanlin is the only ancient architectural relic where visitors can visit the Chinese hero Guan Yu - the epitome of royalty and a role model representing traditional Chinese cultural values. In autumn 1994, Luoyang held the first Guanlin International Pilgrim Ceremony, which gained a great deal of attention both in China and abroad.
As such activities have become more frequent in recent years, not only traditional Chinese values such as loyalty and courage have been transmitted to the rest of the world, but also trade and tourism between China and other parts of the world have also improved.
During the annual pilgrim ceremony, participants provide food and wine, burn incense and worship Guan Yu in front of the hall under the guidance of someone who presides over the ceremony. This activity is an important part of a traditional pilgrimage, where people pray for safety, fortune, loyalty and honesty.