55 German cultural envoys visited Luoyang and praised this ancient city
|
ChinaNews
|
2019-07-03 20:04:38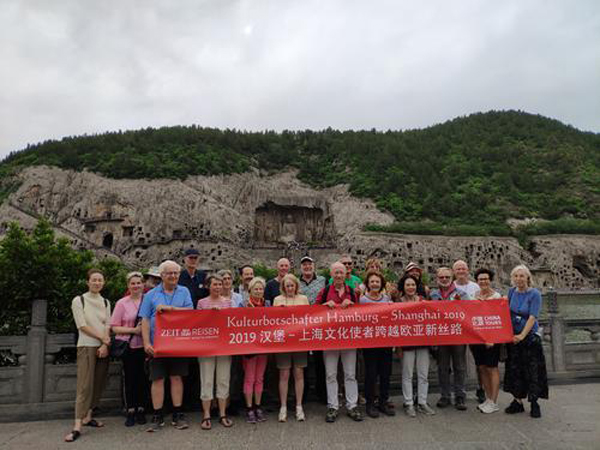 German cultural envoys were visiting the Longmen Grottoes (photo by Liu Guosheng)
"Luoyang is so beautiful! We will definitely come here again and stay for a few more days!" On the afternoon of June 29, the activity of "Kulturbotschafter Hamburg-Shanghai 2019", co-sponsored by the German-Chinese Exchange Association in Hamburg and Nachrichten auf ZEIT ONLINE, was held in the ancient city, Luoyang. During the activity, cultural envoys from Germany praised Luoyang, one of the eastern starting points of the Silk Road.
A total of 55 people participated in the event, including doctors, lawyers, entrepreneurs and media leaders. They traveled 13,000 km in 55 days. They traveled across Germany, Poland, Belarus, Russia, Kazakhstan, Uzbekistan, Kyrgyzstan and other countries and then came to China. After entering Kashgar, these cultural envoys will stay in China for more than 20 days and travel 5,000 kilometers through 18 cities.
After visiting the Longmen Grottoes, German cultural envoys took pictures in front of the Virocana Buddha. They were deeply shocked by the exquisite statue art of the Longmen Grottoes. Some cultural envoys compared Luoyang to Athens in ancient Greece. Since the envoys can only stay in Luoyang for half a day, they couldn't visit more cultural attractions in Luoyang. Therefore, many cultural envoys expressed their regret.
On the evening of that day, in order to make German cultural envoys know more about Luoyang, Luoyang Municipal Culture, Radio, Television and Tourism Bureau organized a special promotion meeting for them. After watching the cultural tourism promotion video of Luoyang, the cultural envoys said that they would come to Luoyang again to experience the profound culture of this ancient city with a history over thousands of years.
Liu Guosheng, person in charge of "Kulturbotschafter Hamburg-Shanghai 2019", said that German friends were fascinated by the history and culture of Luoyang and marveled at the development of Luoyang. They expressed their special love for Luoyang.
Sandra, president of Germany's largest weekly newspaper, Nachrichten auf ZEIT ONLINE, said that after returning home, they would vigorously promote Luoyang, especially the Longmen Grottoes in the newspaper. (Author: Chang Shuxiang, Cheng Sumin)