Rural teacher defies setbacks, chases soccer dream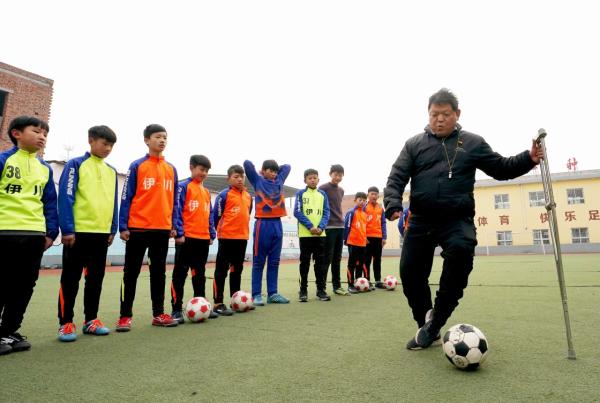 Zhang Erhu, a soccer teacher with a paralyzed right leg, instructs his students during a training session at Jiangzuo Town Primary School in Yichuan county, Henan province on Jan 8, 2019. [Photo/Xinhua]
At 6:30 in the morning, children in the soccer team at Jiangzuo Town Primary School have already begun running and practicing on the sports ground, braving falling small snow and winter chill. Their coach Zhang Erhu, standing on a crutch, watches their movement closely and occasionally instructs the youngsters.
For the past 37 years, Zhang has been chasing his soccer dreams and overcoming many obstacles.
Zhang began playing at the age of 15. From 1982 to 1984, he studied at a sports academy in Yichuan county of Luoyang city, Henan province.
Upon graduation, the 17-year-old was offered an opportunity for further training at the provincial sports college in Zhengzhou, the provincial capital. However, Zhang's hopes for a professional career were dashed because his family could not afford to pay for his schooling.
"It is the saddest thing for me," Zhang told a reporter from Xinhua News Agency with tears in his eyes.
Zhang did not give up his soccer dreams. Through hard work, he was admitted to a sports class at Luoyang Normal University. With his soccer skills, he became a student-teacher at the school.
After graduating, Zhang went back to his hometown of Jiangzuo to become a PE teacher at a junior secondary school. But as the school had no soccer field, Zhang had no choice but to teach basketball and track-and-field.
In December 2001, Zhang's dreams were dealt another heavy blow. Zhang suffered a cerebral hemorrhage and narrowly escaped death. The right side of his body was left paralyzed.
After two years of rehabilitation, Zhang regained the ability to walk, albeit by holding a wall or using a crutch.
He stepped back on the sports ground, even if he could only instruct the students with words instead of showing the movements himself. He thought it was the end of his dream.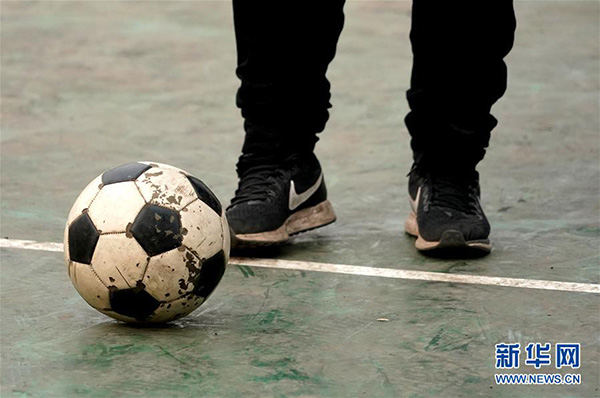 Zhang in action during a training session on Jan 8, 2019. [Photo/Xinhua]